Different Types of Eulogy Speeches
Write a Eulogy Speech to Be Remembered
Eulogy speeches are especially delivered during funerals. If someone in the family died and you are tasked to do what seems to be the most difficult of all tasks – delivering a eulogy speech, you have to make certain that you do it well. As a representative of a bereaved family who has lost a member, you should be strong enough to deliver an acclamation for your loved one.
While you're hoping to chance upon eulogy speeches that will serve as your guideline in coming up with a written speech yourself, it is essential to understand various eulogy speeches that will facilitate you in giving appropriate tribute to your departed loved one.
Here are two different types of tributes given in a wake:
Chronological Eulogy Speech
This is a type of eulogy speech that provides full details of the life lived by the decease. This comprise mainly of personal achievements and recognitions that the person had been known for. If he had been a successful career man or woman, a truthful public servant or even a trustworthy employee, all these count in a chronological eulogy speech.
Memoirs/Recollections Eulogy Speech
This is a type of eulogy speech that speaks more of the memories left by the decease. If the departed had been a good father, mother, sister, brother, a friend or someone who had touched your life in one way or another, now is the perfect time to say your piece. Although this is considered the easiest to recall still, delivering it with conviction is another story.
These two are just few of the types of eulogy speeches you can give to someone who has left this world. Regardless of the classifications and kinds of speeches, a tribute should be done with a sincere sympathy and the hope that all these mourning will come to pass and finally make way for acceptance.
.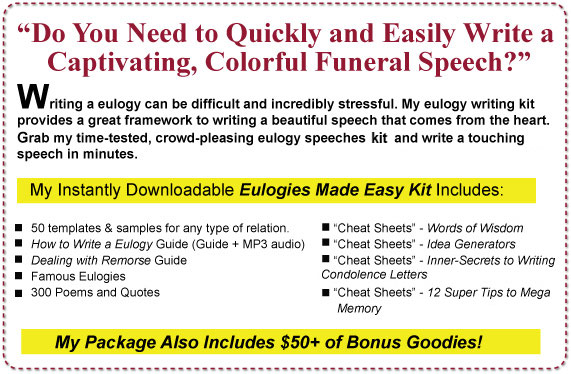 .

Audio clip: Adobe Flash Player (version 9 or above) is required to play this audio clip. Download the latest version here. You also need to have JavaScript enabled in your browser.
Other Eulogy Articles
Different Types of Eulogy Speeches
How to Give a Eulogy Speech
How Eulogy Speeches Can Get Your Brain Going
Free Eulogy Speeches – a Few Wise Words