Eulogy Samples to Write Great Funeral Speeches
A Writing Guide Can Give you the Words You Need
Eulogy samples will help you write a great funeral speech.  Excellent eulogy samples can be found for free online or can be accessed with the help of your funeral director or religious leader.  If you are a funeral director, minister, or someone who will be giving eulogies often, you can invest in a book that offers eulogy samples for a multitude of different occasions.
Who Needs Eulogy Samples? Here's How a Eulogy Sample Can Help You..
Any number of people may be called on to give a eulogy.  There is no age limit, no necessary background or experience, and no special qualifications.  The only consistent factor in being chosen to give a eulogy is that you are well acquainted with the deceased.  Those called on to deliver a eulogy may include the following:
•    A family member, such as a sibling, parent, son or daughter, or someone more distant like a cousin or an aunt or uncle.
•    A friend.  Perhaps you have known the deceased since childhood, or maybe you met him in college.
•    A coworker.  You were not close outside of work, but you worked side by side for years.
•    A religious leader.  Religious leaders deliver funeral speeches on a regular basis.  This is the one instance in which the person giving the eulogy may not know the departed.  However, a funeral speech can only be great if it is delivered by someone who knew the deceased.
If you are one of the first three on this list, you have probably never given a eulogy before, and a eulogy sample (or multiple eulogy samples) will be a welcome and almost necessary tool.  In fact, you can find eulogy and whole program templates that do the work for you.  Your only task is to fill in the specific information to make your speech appropriate to the deceased.
For those dealing with the pain and heartache of loss, writing a eulogy is a painful, difficult process.  Using eulogy samples will make the job much easier, and will give you a road map to follow as you work on your speech.  A eulogy sample will be made up of a few different elements, and you can use these to create an outline.
You may use some or all of these topics as outlined in the eulogy samples you find:
•    A discussion of the characteristics and values of the deceased.
•    Memories of experiences and times that you and your lost loved one have shared.
•    A brief explanation of how your departed friend or family member has touched your life.
•    Praise and a statement of love and celebration of the life lived by the individual being mourned at the funeral.
•    A statement of hope and faith, based on the religious tenets of yourself, the deceased, and his family.
•    If you are a religious person, you may include a scripture reading and a prayer.
Put together an outline with these topics as headings, using a eulogy sample as a guide.  Then you can fill in details about the deceased under each heading.  This will be painful in the beginning, going over memories and heartfelt thoughts and emotions regarding your recently deceased loved one.  However, with the help of a concrete eulogy sample, you will find that the process is actually helpful and healing, and by the time you have finished your funeral speech, you will be capable of delivering the speech with minimal tears.
If you are a funeral director, a minister, or other funeral service officiant, you will find that using eulogy samples will help you write great funeral speeches that will touch the hearts of each set of funeral mourners.  As you know as an officiant, every funeral is different, and every family has a different set of needs.  There are eulogy samples for a wide range of funeral services:
•    Christian and Jewish services as well as other religions.
•    Funerals for masons and members of other private organizations.
•    Services for veterans, war heroes, police officers, and firemen.
•    Services for children.
Each of these situations requires a different kind of funeral speech and a different set of words to offer the comfort and hope needed by those grieving the loss of their loved ones.  There is truly no way for one person to have the right words for every situation.  It is wise to seek out assistance so that you can celebrate the lives and achievements of each individual who comes through your funeral home or church.  Eulogy samples will give you those words and the guidance you need to be exactly the leader and support needed.
.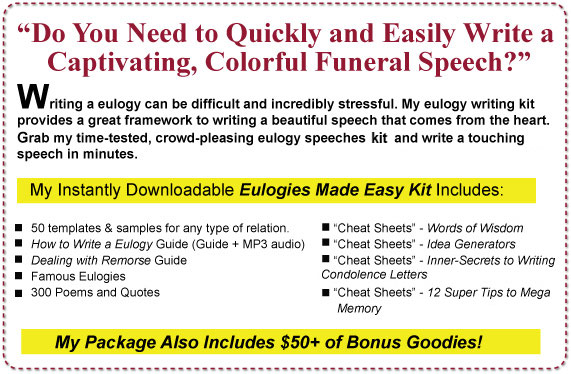 .

Audio clip: Adobe Flash Player (version 9 or above) is required to play this audio clip. Download the latest version here. You also need to have JavaScript enabled in your browser.
Other Eulogy Articles
Christian Eulogy Samples
Choosing a Eulogy Sample
Eulogy Sample for Sister
Eulogy for Grandmother Using Samples
Sample Eulogy for Mother
Sample Eulogy for Aunt
Sample Eulogy for Brother
Sample Eulogy for Father