Consult a Eulogy Template to Write a Great Funeral Speech
Find the Funeral Speech Sample that Best Fits Your Needs
Using a eulogy template to write your funeral speech will make your job much easier.  You can find a eulogy template online or you can talk with your funeral director or religious leader who can probably point you in the right direction.  Sample eulogies will help you deliver a heartfelt eulogy without missing any important points.
Choose the Eulogy Template that Works for You
There are a number of avenues you can use when searching for a eulogy template.
•    Look at past famous speeches such as the Kennedy funeral eulogy and emulate it using your own thoughts and experiences.
•    Choose a very specific eulogy template that is already written, complete with blanks where you can fill in the name of deceased person and details about his life.
•    Find a eulogy template that gives an outline of topics and a suggested order for you to use when delivering your funeral speech.
The option you choose will likely be based on how comfortable you are with writing your own speech and giving it on the day of the funeral.
Purposes of a Eulogy
We give eulogies at funerals for a number of reasons.  You should keep these purposes in mind as you choose your eulogy template so you can be sure that your speech is meeting the needs and expectations of the family and friends of your departed loved one.
•    A eulogy should praise and honor the person who has passed, and should celebrate his life, values, and accomplishments.
•    Your funeral speech is also meant to offer comfort and hope to those in mourning, by giving them the opportunity to think about the good times they have had with this person and to glean hope from their faith and their beliefs.
•    The purpose of a eulogy is also a very personal one; in writing your speech, thinking about your experiences, and talking about your loss, your speech will give you the tools necessary to heal as well.
Elements of a Working Eulogy Template
As you search for ideas to get started on your speech, you will find a variety of ideas about how your speech should be structured and what should be included.  You will find that there are basic elements that consistently appear.
•    Every eulogy template will have an introduction, a body, and a conclusion.  This is a staple structure for any good speech in any context.
•    Introduction:  Your chosen eulogy template may suggest a scripture reading and a prayer if your funeral service is religious in nature.  If you wish to keep your eulogy secular or if your religious leader will be managing these issues, your introduction might include a brief biography of your loved one.  Where was he born and when?  Tell a little about his childhood.
•    Body:  The body will be longest part of your eulogy.  Eulogy samples offer a number of ideas for what to include, such as a discussion of what characteristics stood out about the deceased; talk about his values, his hobbies, and even his quirks.  Share a couple of memories you cherish about time you have spent with him.
•    Conclusion:  The conclusion is handled differently from one eulogy template to the next.  It might include a funeral poem or an excerpt from the honored individual's favorite book or essay.  It might be another reading from scripture, or it might be a moment in which you share your personal feelings of hurt and loss.  Whatever you choose, try to end your eulogy speech on a note of hope and thankfulness for having known the deceased.
Finding a Situation Specific Eulogy Template
There are some funerals that require very specific styles of eulogies.  In these cases, you may want to look for a eulogy template that addresses exactly that kind of a funeral speech.  Some of these situations include the following:
•    A funeral for a child.
•    The funeral service for a war hero or a veteran.
•    A memorial service for a fallen police officer, fire fighter, or other civil servant.
•    A funeral for a member of the masons or other fraternal order.
These are just a few examples of memorial services in which there may be something more or something different expected from your eulogy speech.   There are eulogy examples available specifically for these instances. In some cases, you can consult a representative from an organization, like your local police department, Veterans' Affairs, or the like for advice or a eulogy template that would be fitting.
.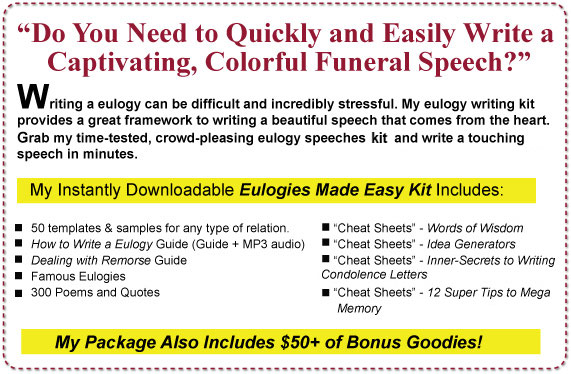 .

Audio clip: Adobe Flash Player (version 9 or above) is required to play this audio clip. Download the latest version here. You also need to have JavaScript enabled in your browser.