Funeral Speech: What to Include
Follow These Tips for an Appropriate Eulogy Writing Process
A funeral speech serves several purposes.  It is a eulogy to praise and remember the deceased, celebrate his life, and commemorate his achievements and accomplishments.  It is also a vehicle by which you can offer comfort and closure for those in mourning who are attending the funeral service.  Finally, in most cases, it is an opportunity to call on the accepted faith of the family of the departed in order to afford strength and hope to all who have lost a loved one.
With this in mind, an effective funeral speech should include a few very important elements to which you will add personal details regarding the deceased and your relationship with him in life.  You may put these in whatever order works for you, and you may want to add specific details as well.
Open Your Funeral Speech
•    If you are giving your funeral speech at a religious ceremony, it is appropriate to start your speech with a reading from scripture and a prayer.  There are appropriate readings throughout the Bible if your funeral is a Christian one; whatever your belief system, an online search or a visit to your religious leader will help you find the right readings for your funeral speech.
•    Talk about the deceased.  The word, eulogy, means "praise."  This is a time to talk about his values, characteristics, and even his quirks.  Talk about how he touched your life with these traits.  You can even tell a short story to illustrate these.
Talk about the Life of the Deceased
•    Give a history of the life of the deceased.  Where was he born and when?  What was his childhood like?  Talk a little about his parents and siblings, even pets.  Your funeral speech will bring your loved one to life in the minds of your audience.
•    Share a couple of brief stories about experiences you remember having with the deceased person.  Do not be afraid to share something funny; a little laughter will help ease the tension in the room.
Draw on your Religious Beliefs for your Funeral Speech
•    Provided your beliefs align with those of the family, you should talk about the nature of life and death, and remind your grieving audience that thanks to your faith, you can have hope regardless of your sadness.
•    Include another reading that will reiterate this point.  Christians can consult any of the four Gospels, as well as Corinthians and several other books, for appropriate choices.
•    End your funeral speech with a prayer, inviting your fellow mourners to join you.  Your prayer should include thanks for the time you were able to spend with your now deceased loved one, and a request for strength during this time of loss.  If you are uncomfortable leading funeral prayers, you can find already written eulogy prayers with the help of your church leader.
Draw on a Range of Resources for a Great Funeral Speech
While time may be limited for writing your funeral speech, you should look thoughtfully at a number of resources to make your funeral speech more substantial and more appropriate to your departed loved one.
•    As you talk with family and friends in the days leading to the funeral, listen to them as they share their experiences, memories, and observations.  You may learn something that will make your funeral speech better.
•    Visit the deceased and the family of the deceased person if possible, and look through his photos, scrapbooks, and letters.  These will help you gain insight into his life and possibly give you new topics.
•    Search for a poem that depicts your loss or seems to illustrate the kind of person your friend or family member was in life.  You may also choose to write a poem.
•    Do not limit your readings to religious literature.  The deceased person may have had a favorite author, poet, or orator from whom you might be able to glean an appropriate quote.  This is a much easier task with the capabilities afforded us by the internet.
Tips for Delivering Your Funeral Speech
•    Practice ahead of time.  You have been asked to give the funeral speech; this probably means that you had a close relationship with the deceased.  If you practice your funeral speech before the service, you will have a better chance of getting through it without any substantial emotional recoil.
•    Be yourself.  A funeral speech is a personal eulogy to honor someone you care about.  Deliver it with heartfelt sincerity, and your funeral speech will be accepted and commended by those who hear it.
.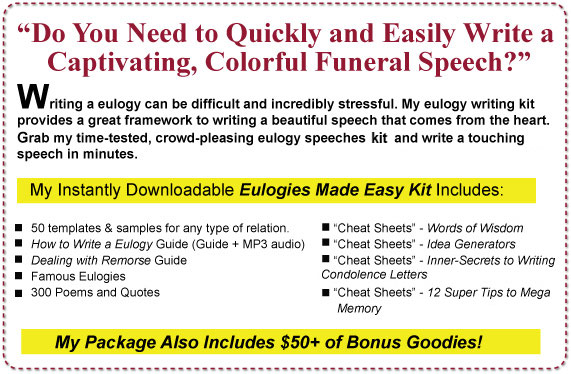 .

Audio clip: Adobe Flash Player (version 9 or above) is required to play this audio clip. Download the latest version here. You also need to have JavaScript enabled in your browser.
Other Eulogy Articles
Father Funeral Speech
Mother Funeral Speech
Writing an Outstanding Funeral Speech