What is a Eulogy Speech?
The word eulogy itself does not have anything to do with funerals, or the dead at all. Instead, it comes from a Greek word, "eulogia". This word means "good word" or "praising speech" and does not have to be used just for funereal purposes. However, today, most of the time when we speak of an eulogy, we are talking about a funeral eulogy – that is, a speech talking about the life and praising a deceased person.
A funeral eulogy is the same thing as a funeral oration, and it is a particular type of speech usually given at the funeral or memorial service of a person who has recently died. It shouldn't be confused with an obituary, which is a printed account of a person's life and last wishes that is usually published in a newspaper. Eulogies are also not obsequies – this term refers to the entire ceremony and rituals surrounding the death of a person and their funeral.
Many different people may be chosen to give a funeral eulogy at the memorial service for a deceased person. In some religions, the minister or other head of a church will speak about the person who has passed on – but this will not happen in a Catholic church, where the priest is supposed to keep to homilies during a funeral Mass. Most eulogies are given by people who were close to the person who died – their families, friends, even coworkers may wish to step up during the ceremony and speak about what sort of person the deceased was, and how he or she touched their life.
Many a funeral eulogy is written after the person has passed on, and so may be very emotional and heartwrenching to give and hear. It may be a last time for the eulogy-giver to speak about all of the good things that the deceased did, but there also may be some bitterness in an eulogy. If this occurs, the best thing to do is to let the speech-giver say his or her piece and not react – causing a scene during a funeral is never appropriate or wanted.
Above all, a funeral eulogy is supposed to be a speech in praise of what the deceased did during his or her life, and not a time for reproach or anger. It is a time to let go of the past and give a good talk about the worth of this person's life.
How to Give a Eulogy Speech
Thinking about getting up and speaking at someone's funeral is never a pleasant image. Unfortunately, most people will have to give a eulogy speech at one time or another, and it's good to know that you can be prepared for this eventuality. Whether you will be speaking at a large funeral in a church or a small memorial service in an intimate setting, with a few tips, you should be able to easily give a good speech without being too nervous.
The first thing to think about if you know that you will be giving an eulogy speech is writing the speech itself. Don't leave it to the last minute, and hastily scrawl down some items about the deceased that you will randomly talk about. Instead, plan out your entire speech. Write it down on index cards so that you can have the eulogy with you for easy reference when you stand up in front of the funeral congregation. Take the time to research how to write your eulogy – whether you check out a book from the library, browse through some resources at the local bookstore or do a search on the Internet.
Another important factor is rehearsal. If at all possible, rehearse your eulogy speech before standing up in front of people who were important to the person who passed on. It will look much better for you and for all of the friends and family if you aren't stuttering over every word that you say in your eulogy. That's not to say that you can't show emotion – crying, and other sounds of being upset are perfectly normal. Sounding like you are completely unprepared is not.
If you are giving an eulogy speech, it is also important to consider how you dress. Etiquette no longer dictates that people attending a funeral wear all black dress, but it's not appropriate to wear bright colors either. Try to wear muted colors and professional, or office style dress, so as to look like you are in mourning. Colors such as dark gray, navy and brown are all acceptable for funerals today – but don't pair them with flashy patterns or wear anything too revealing.
Putting a little thought into your eulogy speech will make this troubling time go a bit easier – and will keep one less thing from worrying you at the funeral. Being prepared will also make your speech more easy to listen to, a benefit for all the funeral goers.
.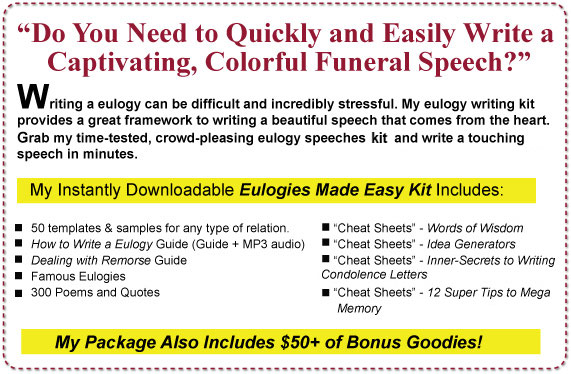 .

Audio clip: Adobe Flash Player (version 9 or above) is required to play this audio clip. Download the latest version here. You also need to have JavaScript enabled in your browser.
Other Eulogy Articles
Different Types of Eulogy Speeches
How to Perfect Writing a Eulogy Speech
How Eulogy Speeches Can Get Your Brain Going
Free Eulogy Speeches – a Few Wise Words