Write and Deliver a Heartfelt Mother Funeral Speech
A Few Tips for Writing a Great Eulogy
A mother funeral speech is an emotional and sometimes difficult eulogy to write.  As the son or daughter of the deceased, you have a lifetime of memories and experiences to share that are countered by a heart full of grief over your loss.  However, writing a speech for your mother may be exactly the tool you need to work through your feelings of sadness, anger, and loss you may be feeling over your mother's death.
As you sit down to write a funeral speech for Mom, take the time write out an outline of what kinds of things you want to include.  Start with headings like the following:
•    Characteristics.  Talk about what made your mom who she was.  Was she loving and nurturing? Was she creative or did she love to travel?
•    Illustration of characteristics.  In the second part of your mother funeral speech, share a story or two that demonstrate the traits you have named.
•    Memories.  Share a special memory or two that include yourself and your mother, and perhaps the rest of your family.  This may be a humorous story or simply an emotional one.
•    Recite a funeral poem, a quote from a book or movie that your mother loved, or use a quote from scripture.  A mother funeral speech calls for either quotes that relate directly to your mom, or to the comfort of the other mourners at the funeral service.
The definition of the word, eulogy, is "praise."  A mother funeral speech should be exactly that.  Brutus said at Julius' Caesar's funeral, "I come to bury Caesar, not to praise him."  Unlike Brutus, your job is to praise your mother and to celebrate her life.  If you start writing your mom's funeral speech as soon as you learn you need to, and you practice your delivery, you will be able to do this and help your fellow mourners do the same.
Some Sample Quotes
If you are looking for some appropriate quotes to use in your funeral speech for Mom, here are a few you may want to consider:
•    Helen Steiner Rice wrote a beautiful poem, titled "A Mother's Love."  You may choose to use part or all of this in your mother funeral speech, or have it framed and posted with photographs of her life at the church or the funeral home.
•    Another excellent choice for your funeral speech for Mom is the "Irish Funeral Prayer," which is based on a mother's love and the pain of her loss.
•    The Bible, of course, offers a myriad of comforting scripture messages for a mother funeral speech or any other eulogy.  Corinthians, Matthew, and Luke are only a few examples of books you should look at.
Whatever resources you choose to use, remember that your mother eulogy, be sure to keep it natural, personal, and heartfelt.  It is more important that your words come from the heart than it is that your mother funeral speech be eloquent or impressive.
.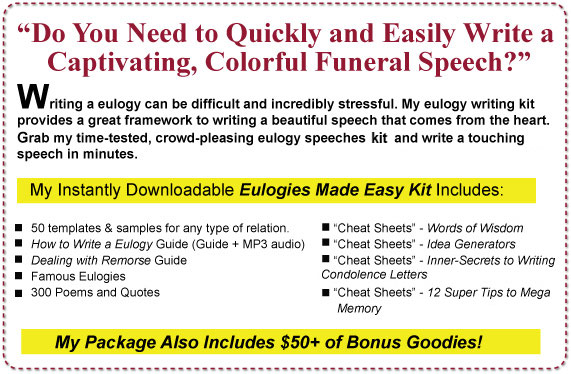 .

Audio clip: Adobe Flash Player (version 9 or above) is required to play this audio clip. Download the latest version here. You also need to have JavaScript enabled in your browser.
Other Eulogy Articles
Funeral Speech
Father Funeral Speech
Writing an Outstanding Funeral Speech