A Sample Eulogies Make the Job of Writing a Speech Easier Use a Writing Guide to Put together a Great Eulogy
Sample eulogies can make your job so much easier at a time when the pain of loss may cloud your ability to organize your thoughts.  The time between the death of a loved one and that person's funeral is often only a matter of days.  If you are called upon to deliver the eulogy at the funeral service, you have only that amount of time to gather your thoughts, deal with the pain of the loss, and put an organized, well worded speech together to deliver to those in mourning.
Finding Sample Eulogies
Fortunately, sample eulogies are available in abundance and are easy to find.  They make a great starting point so that your speech is not beginning with a blank piece of paper.  A quick internet search will reveal a variety of options and you will quickly be able to identify the speech that will work for you.  All you will need to do is fill in the outline with thoughts and memories specific to the individual being honored.
What is a Eulogy?
Before you can write a eulogy, you must have a solid notion of exactly what it is and what its purpose is.  In general, a eulogy is a funeral speech that offers praise and commendation to the deceased.  A eulogy celebrates the life of the person being honored, lauding his values, accomplishments, and the impact he has had on others.  With this in mind, you can now find sample eulogies that best fit your specific situation.
What to Look For
As you search through available sample eulogies, think about what you already know about the deceased and his family and friends.  There are a few factors that should affect exactly what sample eulogies you will use to get started.
•    Will the funeral service be a religious one?  Are you expected to include religious elements in your eulogy speech?  There are sample eulogies that assume religious beliefs and include scripture readings, religious quotes, and even prayers.
•    Are you related to the departed individual?  If so, look for sample eulogies that have been written specifically for the relationship you hold with the person.  For example, there are sample eulogies for mothers, fathers, siblings, grandparents, and so on.
•    Is the deceased a veteran, a fallen law enforcement officer, or firefighter?  If so, be sure to find eulogy samples that address this.  You will be expected to honor him or her for time served and service given.
Of course, it is also important to find eulogy samples that most closely mirror your thoughts and your style of writing and speaking.  Remember that whatever you choose, you must stand up in front of those who are mourning on that day and give your speech comfortably.
What Sample Eulogies Will Include
There are many different avenues a eulogy can take, because each funeral is going to be different.  However, some elements are almost always found in any funeral eulogy you hear or read.
•    A brief history of the deceased, including where and when he was born, a description of his childhood, and a little information about his early family life.
•    A discussion of his marriage, if applicable, and his family in adult life.
•    A few stories of personal experiences you remember sharing with your departed friend or loved one.  How did he impact your life?  What did he mean to you?  Do not be afraid to tell an amusing anecdote; a little laughter will help to lighten the mood.
•    Most sample eulogies include a message of hope and thankfulness.  This may be of a religious nature, but this is not necessary.  A good eulogy leaves mourners feeling thankful for having shared in the life of the deceased and walks away with a little peace and a little healing.
Other Tools You Can Use
Samples of eulogies will include suggestions for supporting materials, and will even direct you to sites where you can find these tools.  Be a little creative, and be sure that whatever you use fits the occasion and is applicable to your departed friend.
You may wish to include the words to a particularly applicable funeral poem.  Emily Dickinson and Helen Steiner Rice are excellent resources to start your search for poems that may be appropriate.
Scripture readings for Christian funeral services can offer messages of faith and hope.  You can find applicable scriptures in the Gospels, Corinthians, Psalms, and peppered throughout the Bible.
You may also consider using photographs or a slideshow that mourners can see during your speech, or can view before or after your eulogy is delivered.  Sample eulogies will give you some ideas about how to incorporate these seamlessly.
.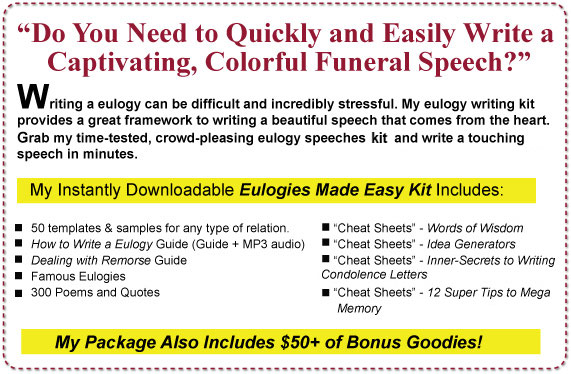 .

Audio clip: Adobe Flash Player (version 9 or above) is required to play this audio clip. Download the latest version here. You also need to have JavaScript enabled in your browser.
Other Eulogy Articles